"they" say, as you age,
if you don't get enough sleep,
your toes "go away."
~ Jenna Bush Hager, ☛
ref
George W. Bush's daughter
☛
10 Things to Hate About Sleep Loss
1. Sleepiness Causes Accidents
☛
Cannabis Users Are Safer Drivers Than Non-Users,
New Study Shows
As an auto insurance quote provider,
4autoinsurancequote.org says that
marijuana use can also have an
indirect effect on insurance rates.
Because of the correlation
between marijuana use and
accident responsibility rates, they say,
marijuana users, as a whole,
can expect to see lower insurance rates
than non-marijuana users.
☛
Carl Sagan: A Life in The Cosmos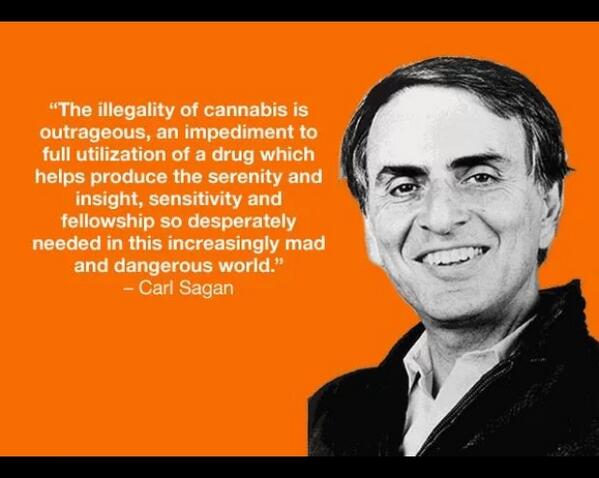 2. Sleep Loss Dumbs You Down
☛
Ganja's Impact On Brain Function "Minimal"
The consumption of cannabis, even long-term,
has a "minimal" impact on brain function,
according to a systematic literature review
by the journal Psychological Medicine
Forget the stereotype about dopey stoners.
It seems marijuana could be good for your brain.
☛
Witch hunts and the war on weed
The persecution of "witches"
was really a war on sacred plants
that continues today.
3. Sleep Deprivation
Can Lead to Serious Health Problems
☛
Sleep & Relaxation
Cannabis lowers blood pressure,
dilates the arteries,
and reduces body temperature
an average of one-half degree,
thereby relieving stress.
Evening cannabis smokers
in general report more restful sleep.
4. Lack of Sleep Kills Sex Drive
☛
5 Fun Facts About Cannabis and Sex
The sociology department at the University of California Santa Barbara has stated that while people sometimes feel aroused after consuming cannabis, most of the time they fall somewhere in between. Whether or not someone feels aroused may depend on particular strains or the mood a person is in at the time, though only anecdotal evidence exists to support this argument. However, the informal poll by Psychology Today.
67%
of respondents felt cannabis enhanced their sex lives.
20%
claimed it depended entirely
on the circumstances at the time.
☛
Top 10 Strains for Great Sex
5. Sleepiness Is Depressing
☛
Ganja 4 PTSD & Depression
A study by University of Saskatchewan researchers
suggests beneficial aspects of smoking marijuana
at least among rats, who appear
to have sprouted new brain cells
and benefiting from reduced depression and anxiety.
6. Lack of Sleep Ages Your Skin
☛
Hemp body care products
7. Sleepiness Makes You Forgetful
☛
Toke-A-Day May Keep Old Memory Functioning
8. Losing Sleep Can Make You Gain Weight
☛
Wasting Obesity on Ganja
The future of weight loss: A 'marijuana' diet pill?
9. Lack of Sleep May Increase Risk of Death
☛
The Tree of Life
☛
Archeology:
Ancient Temple Hashish Incense!
Did Jesus Inhale?
10. Sleep Loss Impairs Judgment,
Especially About Sleep
☛
Clinical Endocannabinoid Deficiency
☛
Using Pot To Save Brains!
☛
Conservatives Have Larger 'Fear Centers' in Their Brains
"A strict observance of the written laws
is doubtless one of the high virtues
of a good citizen, but it is not the highest.
The laws of necessity, of self-preservation,
of saving our country when in danger,
are of higher obligation." - Thomas Jefferson