Man Aims To Become Licensed Hemp Farmer
By Dale Wetzel
CN Source: Associated Press January 15, 2007 Bismarck, N.D.
David Monson began pushing the idea of growing industrial hemp in the United States a decade ago. Now his goal may be within reach — but first he needs to be fingerprinted.
Monson plans this week to apply to become the nation's first licensed industrial hemp farmer. He will have to provide two sets of fingerprints and proof that he's not a criminal.
Continued...cannabisnews/22516
Vote Hemp
State Asks DEA To Waive Registration Fees
State To Begin Taking Applications for Hemp
Hemp-Growing Rules Take Step Forward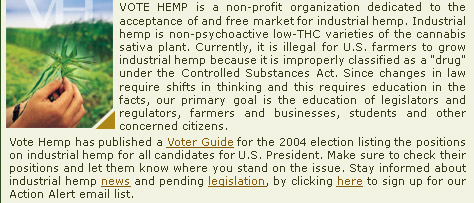 votehemp
ND state legislator high on hemp
Hemp, the misunderstood cousin of marijuana, is not a drug. You can't get high on it, any more than you could by smoking three feet of cotton rope. Yet it is the single most useful plant on earth. David Monson, farmer, school superintendent and state legislator has been trying for ten years to get a federal license to grow ten acres of it. His biggest stumbling block is the DEA which refuses to reclassify hemp, currently and ridiculously listed as a drug, in order to allow the culitvation of this extraordinarily beneficial crop.
The DEA premises their objections the potential for hemp farmers to slip in a few rows of marijana into their acreage. A ridiculous objection since cross pollination would render marijuana plants useless for drug use. Their real fear is that the public would recognize the value of the non-psychotropic plant and thus soften their objection to the use of marijuana, eliminating their easiest target in the war on some drugs.
Hemp is environmentally friendly crop that doesn't require massive applications of fertizilers and pesticides to thrive. It doesn't deplete the land and grows under adverse conditions. Virtually every other country in the world allows its cultivation and are developing its industrial uses which include the extraction of oils for food to the making of bricks for low cost housing. This is the crop that could save the family farm in America.
Seven states has authorized farming of the crop so far, ruling the feds have no grounds to criminalize a plant that is not a drug. U.S. Rep. Ron Paul, R-Texas is the only legislator who has addressed the issue on the federal level but unfortunately his peers refused to bring his legislation to the floor. Meanwhile, Monson has been trying for ten years to jump through the DEA's hoops in order to give hemp a chance to prove itself useful.
One hopes that as the public begins to recognize the futility of the drug war in general, the DEA will find itself under pressure to rule on the side of common sense and give Mr. Monson his license, rather than continue to protect their own interests in maintaining a prohibition that profits only themselves.
Nutty Hemp a Hot Food Trend
By Phil Lempert, Today Food Editor
CN Source: MSNBC January 15, 2007 USA
One of the hottest food trends for 2007 may well have its origins dating back thousands of years. Take a look down the aisles … and it's all about hemp!
Hemp has been grown for at least the last 12,000 years for fiber and food. George Washington and Thomas Jefferson both grew hemp and in fact Jefferson drafted the Declaration of Independence on hemp paper.
First thing to understand is that "hemp" is NOT "marijuana."
Industrial hemp and marijuana are both classified as Cannabis sativa, a species with hundreds of different varieties, which is a member of the mulberry family. Industrial hemp is bred to maximize fiber, seed and/or oil, while marijuana varieties seek to maximize THC (delta-9-tetrahydrocannabinol, the primary psychoactive ingredient in marijuana).
Industrial hemp has a THC content of between 0.05 and 1%. Marijuana has a THC content of 3% to 20%. The hemp plant is tall and stalky and the marijuana plant is short, shrub-like, and has "buds". It's an annual plant that grows from a seed, and because of its quick growth (average of 4 months) it requires limited pesticides.
In Canada and the European Union, only varieties containing less than 0.3% THC in their flower portions are permitted as commercial crops. Hemp growing has been illegal in the United States since the early 1950s, but the importing of foods made from hemp seeds and oils is allowed. Before the seed is used as a food ingredient, the hull is usually removed, effectively removing all but the most microscopic amounts of THC.
The shelled hempseeds used in food each typically contain less than 3 parts-per million (ppm) of THC. For example, if 20% of a food's ingredients are shelled hempseeds, and assuming a 2 ppm THC level, a human being would have to eat 50 lbs of the food in question to become intoxicated.
Thirty countries around the world permit the cultivation of industrial hemp and the subsequent use of hemp by-products in human food. Regulations governing acceptable thresholds for human ingestion vary quite considerably between these jurisdictions or are simply non-existent.
For example, Canada's food safety regulator, Health Canada, currently permits foods to contain up to 10 ppm THC but is expected to revise this level to 2 ppm. In Switzerland, government policy mandates below a 20 ppm limit. In contrast, U.S., regulators prohibit any level of THC in food — an assessment based in large part upon a 1937 U.S. tax act on marijuana.
Why Foods from Hemp?
Hempseeds are actually nuts (31% of the nut is fat) with a nutty flavor similar to pine nuts and while the nuts are very small, they are big on nutrition, with up to 35% of the hemp nut being protein. Most of this protein is edestin, a highly digestible storage protein. Unusual for plant protein, hempseed protein contains all nine essential amino acids in a favorable ratio for human needs.
There are twenty different types of fatty acids that our body needs for optimum health. We can manufacture all but two (2) of these twenty - known as the Essential Fatty Acids (EFAs); OMEGA-6 Linoleic Acid (LA) and OMEGA-3 Linolenic Acid (LNA) the source of these two come from our foods nutrients. To be most effective, these two EFA's need to be consumed in a balanced ratio; the World Health Organization recommended ratio is 4:1.
The hempseed is one of the most balanced sources of omega-3 and omega-6 Essential Fatty Acids (EFAs). Studies link many common ailments to an imbalance and deficiency of EFAs in the typical Western diet: too much omega-6 and not enough omega-3.
Fish and fish oils are typically recommended because they provide the omega-3 derivatives of SDA, DHA, and EPA, but for some consumers the concern over the contamination of fish by mercury and other environmental toxins (which has led the FDA to warn pregnant women and nursing mothers to restrict their fish intake) hemp's omega profile is a good alternative to fish. The seeds also provide other phytonutrients, including phytosterols and carotenes as well as Vitamin E, calcium, magnesium, and potassium.
Hemp oil is the richest known source of polyunsaturated essential fatty acids (the "good" fats) and it is also rich in some essential amino acids, including gamma linoleic acid (GLA), a very rare nutrient also found in mother's milk.
Since the early 1990s, shelled hempseeds have been used as a food ingredient in a wide variety of foodstuffs, including baked goods, snacks, breakfast cereals, beverages, frozen desserts, tofu, and milk substitute.
Let's Taste Some Hemp!
Nutiva Organic Shelled Hemp Seeds
- These shelled hempseeds are 33% protein and rich in vitamin E as well as Omega-3 and GLA. While some other firms heat their hempseeds, Nutiva simply removes the seeds' hard shells, yielding a 100% raw gourmet product that tastes like pine nuts. 1.1oz. packet $1.89: 10 oz. packet $9.99
Nutiva Recipes
Manitoba Harvest Organic Hemp Seed Oil
has a nutty flavor and is one of the few vegetable oils that contains large quantities of the omega-3 essential fatty acid (EFA) called alpha-linolenic acid (20%). Manitoba Harvest Organic Hemp Seed Oil is made by hemp seeds that are cold pressed to ensure that valuable enzymes are not destroyed and nutrients such as chlorophyll and vitamin E remain intact. Unlike conventional oil refining, their "Fresh Pressed" process does not subject the oil to poisonous chemicals or destructive heat. 8-ounce bottle $10.99; 16-ounce bottle $19.99.
Manitoba Harvest Hemp Seed Butter
is a spread that contains more omega 3 & 6 essential fats than any other nut butter and is one of nature's richest sources of complete protein (35%). Hemp Seed Butter contains no trans fats, no hydrogenated oils, no cholesterol, no added sugar, low saturated fat, no gluten, no preservatives, and no artificial colors or flavors.
To produce Manitoba Harvest Hemp Seed Butter, hemp seeds are cracked to expose the soft inner "nut." This inner nut is then ground at a low temperature until a rich, creamy texture is achieved. No other ingredients are used in this raw "living" food that is made in small batches. Hemp seed butter has an attractive emerald green color due to its content of chlorophyll, a powerful antioxidant. A 10-ounce jar sells for $9.99.
Living Harvest's Hempmilk
is a nutty tasting non-dairy beverage that provides essential and balanced nutrition for the whole family. An alternative to soy milk or dairy, it has a naturally occurring well-balanced ratio of Omega-3 and Omega-6 Essential Fatty Acids that can help maintain a healthy heart, a sharp mind, a strong immune system, and glowing skin. Available in three flavors: Original, Chocolate and Vanilla. Each serving contains: 0.9 grams Omega-3, 2.9 grams of Omega-6 with GLA, all 9 Essential Amino Acids, 4 grams of Protein , Essential Vitamins A, B12, D, E, Riboflavin and Folic Acid, Essential Minerals Magnesium, Potassium, Phosphorus, Iron and Zinc, 46% of RDA of Calcium. 32 oz. carton retails for $3.99.
Nutiva HempShakes
- The powdered shakes contain nourishing superfoods, such as hemp, blueberries, pomegranates, açai and goji berries, maca root, and ramon nuts, that are rich not only in protein but in minerals, antioxidants, and healthful fatty acids. Hemp protein contains 66 percent edestin—easier to digest than soy—and, unlike most soy protein, isn't processed with hexane solvents. 1.1oz packet $1.89; 16 oz. container $19.99
Nature's Path Hemp Plus Granola
- Organic rolled oats, organic evaporated cane juice, organic expeller pressed soybean oil, organic brown rice flour, organic flax seeds, hemp seed, organic oat syrup solids, sea salt, organic molasses, rice bran extract. Sells for $3.99.
Healthy Hemp Brownie Bites
- Chewy dense chocolate brownie swirled with caramel and packed with hempseed. Hempseed are packed with Omegas 3 & 6 fatty acids. A sweet and satisfying dessert! Healthy Hemp Brownie Bites will be sold nationally in Natural Food Stores and conventional supermarkets beginning in 2007 $4.99-$5.99.
Healthy Hemp Bagels, bread and tortillas
- contains the highest amount of protein and fiber of any bread available! Packed with organic shelled hempseed, organic flaxseeds, and organic pumpkin seeds. A rich source of protein, dietary fiber, minerals, vitamin E, iron, all 9 amino acids, and a near perfect composition of the fatty acids Omega 3, 6 & 9. Sold in the frozen section. $3.99-$5.99.
Nature's Path Hemp Plus Organic Waffles
- Frozen waffles contain organic whole wheat flour, organic expeller pressed soybean oil, organic evaporated cane juice, organic flax seed, organic hemp seed, leavening, organic oat bran, non-GMO soy lecithin, organic pear juice, sea salt, organic rice bran. Net weight: 11oz (312g). Sells for $3.59.
Phil Lempert is food editor of the TODAY show.
He welcomes questions and comments, which can be sent to
[email protected]
or by using the mail box below. For more about the latest trends on the supermarket shelves, visit Phil's Web site at:
SuperMarketGuru
Contact:
[email protected]
*
Website
*
URL
CannabisNews Hemp Archives
Hemp Seed, The Royal Grain
, by Chris Bennett
Traditional Uses of Culinary Hemp Seed
by Dr. Alexander Sumach
Centuries of Safe Consumption of Hemp Foods
by Cynthia Thielen
Essential Fatty Acids Can Affect Your Baby's Intelligence!
by Hempola, Inc.
Nutritional Analysis of Hempseed and Hempseed Oil
by The Ohio Hempery
Nutritional Analysis of HempNut Hulled Hempseed
by Richard Rose
* Many Essential Nutrients Found in Hemp Seed July 27, 2000
By Nancy Ross Ryan - Chicago Tribune
Source:
cannabisnews
*
Spokane.net
According to the latest research, there are about 45 nutrients that humans can't live without and which their bodies can't manufacture: 21 minerals, 13 vitamins, eight amino acids and two essential fatty acids. No single food has them all. But when a food is discovered that is a rich source of several essential nutrients, such as hemp seed, it makes nutrition news. Its promoters bill hemp seed as the soybean of the new millennium. In addition to containing vitamins and minerals (calcium, iron, thiamine, niacin and riboflavin), hemp seed, like the soybean, is a vegetable source of complete protein, having all eight amino acids. Hemp oil (pressed from the hemp seed) is, according to many, the best source of the two essential fatty acids (or EFAs) we can't live without: omega 3 alpha-linolenic acid and omega 6 linoleic acid.
Contact
*
URL
Hemp Around the World
* Canamo – Spain and Chile
* Hanf – Austria and Germany
* Hanp - Denmark
* Hanpu – Finland
* Hennep – Netherlands
* Kender – Hungary
* Konopli – Russia
* Konoplja – Yugoslavia
* Ma – China
* Penek – Poland
* Taima(asa) – Japan
Welcome to Hemptrade.ca
The home of the Canadian Hemp Trade Alliance/
Alliance Commerciale Canadienne du Chanvre
Looking Good in the Mirror & the Marketplace
Hemp Food Sales Grow 50 Percent Over Last Year
Cannabis Food
Ganja/Hemp lnfolinx
yaoh.co.uk
Motherhemp launch the succesful organic dairy free hemp ice-cream alternative to EU market at Biofach, visit them at the
British Pavillion, Hall 1, Stand 440
Hemp Seed Cookbook, $2.25.
SCRAP, PO Box 510,
Cazadero, CA 94521
(707) 847-3642
Fats and Oils: Alive Books $20
The Complete Guide to Fats and Oils in Health and Nutrition
PO Box 80055, Burnaby BC, Canada V5H 3X5
Bring On The Hemp
Eradicated Marijuana Is 98 Percent Ditchweed
Lynn and Judy Osburn
HEMP SEED: THE MOST NUTRITIONALLY COMPLETE FOOD SOURCE IN THE WORLD
Part One by Lynn Osburn
Part II, Hempseed Oils and the Flow of Life Force
HEMP, THE PREMIER RENEWABLE RESOURCE
Energy Farming in America
osburndefensefund
thebodyshop
Hemp Food Association
"Hemp Food Industries Association"
[email protected]
Tune In, Turn on, Eat Up
Dr Dave West of the NAIHC
educates us to some 28 pages of hemp myths and facts in adobe acrobat format
Australia's bumper harvest
The Ganjawar Comes To The Rez
Central Coast Nutrition
Paul Gaylon * Herbal Products & Development
PO Box 1084 * Aptos, CA * 95001 * (831) 688-8706
[email protected]
The Ohio Hempery is closed.
* Sorry everyone.
* The Ohio Hempery closed its doors in Feb. 2002.
* If you want to reach Don Wirtshafter, contact him at
[email protected]
* If you have any remaining questions for Hempery customer service, contact them at
[email protected]
Hungry Bear Hemp Foods
Galaxy Global Eatery
Hemp.co.uk
Hempen Ale Home
safariseeds
Mad Cows vs Hemp
Omega 3: Fish v Hempseed Oil
Wallstreet's Spontaneous Abortionists
AP Story Proves Value of Hemp Farming
By Stan White
CN Source: Summit Daily News January 21, 2007 USA
It was encouraging to read "Man Aims To Become Licensed Hemp Farmer" (Jan. 15) on the Summit Daily News website's AP section about David Monson in North Dakota who may be allowed to grow hemp (though he has to be fingerprinted and pay the Drug Enforcement Administration's annual registration fee of $2,293, which is non-refundable even if the application is denied).
Encouraging, because U.S. farmers have been prohibited from growing hemp since World War II, when the U.S. government needed American farmers to produce hemp to help save America due to its value for human survival.
Since the Ninth U.S. Circuit Court of Appeals in San Francisco effectively ended the Federal Government's attack on hemp food products in 2004, Americans may now purchase hemp products, yet American farmers are excluded from cultivating the plant. Locally, citizens may purchase hemp food products available at Alpine Market in Frisco, although the hemp in those products must be imported.
American farmers are unable to compete in the free world market due to unfair DEA laws prohibiting hemp cultivation. The U.S. is almost the only developed nation that doesn't allow its farmers to grow hemp. In fact, communist Chinese farmers grow hemp (nearly 2 million acres), and neighboring Canada's hemp industry doubled last year where hemp had a better profit outlook than any other Canadian crop in 2006.
Although hemp seeds and oil contains Gamma Linolenic Acid, which contributes to a strong immune system and is only available from five obscure places including mother's milk, hemp cultivation isn't limited to food products. Hemp should and could get more attention as an alternative fuel especially considering the original diesel engine was designed to run on hemp seed oil.
Currently American hemp cultivation is gaining support from all political parties and since hemp can grow almost anywhere including harsh climates like Canada and North Dakota; it can grow in Colorado.
It is time to re-introduce hemp as a component of American agriculture and to help achieve that goal, citizens can request congressmen support American farmers and hemp cultivation. Urge Congress to refuse funding the DEA's enforcement actions against law-abiding, state-licensed industrial hemp growers as these bills may arise this summer.
Eastern Colorado farmers may even consider supporting Amendment 44 type election ballot questions in the future, which legalize cannabis (marijuana / kaneh bosm) since it stands to reason, if citizens may use cannabis with THC then farmers may cultivate hemp with practically no THC. Further, farmers might consider how the Federal government has unfairly treated them and support hemp farming.
To allow ignorant politicians to continue prohibiting hemp farming isn't leading, it's draining; vote for politicians who get it and do what is right for America, Earth and our solar system.
Source: Summit Daily News (CO)
Contact:
[email protected]
*
Website
Man Aims To Become Licensed Hemp Farmer
CannabisNews Hemp Archives
HEMP FOR VICTORY -1942.
[Text of 14 minute U.S. Dept. Of Agriculture Film, 1942]
Long ago when these ancient Grecian temples were new, hemp was already old in the service of mankind. For thousands of years, even then, this plant had been grown for cordage and cloth in China and elsewhere in the Far East. For centuries prior to about 1850 all the ships that sailed the western seas were rigged with hempen rope and sails. For the sailor, no less than the hangman, hemp was indispensable. A 44-gun frigate like our cherished Old Ironsides took over 60 tons of hemp for rigging, including an anchor cable 25 inches in circumference. The Conestoga wagons and prairie schooners of pioneer days were covered with hemp canvas. Indeed the very word canvas comes from the Arabic word for hemp. In those days hemp was an important crop in Kentucky and Missouri. Then came cheaper imported fibers for cordage, like jute, sisal, and Manila hemp, and the culture of hemp in America declined.
But now with Philippine and East Indian sources of Hemp in the hands of the Japanese, and shipment of jute from India curtailed, American hemp must meet the needs of our Army and Navy as well as of our industry. In 1942, patriotic farmers at the government's request planted 36,000 acres of seed hemp, an increase of several thousand percent. The goal for 1943 is 50,000 acres of seed hemp. In Kentucky much of the seed hemp acreage is on river bottom land such as this. Some of these fields are inaccessible except by boat. Thus plans are afoot for a great expansion of a hemp industry as a part of the war program.
Continued.../hempmuseum/HEMP.FOR.VICTORY
Based on the Film Produced by the U.S. Dept. of Agriculture. 1942.
Comic book format for film text.
Hemp Producer? Plan Riles Feds' Suspicions
By Chuck Haga
CN Source: Star-Tribune January 28, 2007 Osnabrock, N.D.
David Monson arrived at church the picture of rural conservative respectability, dressed in a suit and accompanied by his 79-year-old mother.
Tall, neatly trimmed, attentive to neighbors as he escorted his mother to a pew, he is all you might expect and more: farmer, rural school superintendent, president of his Lutheran congregation, member of the Eagles, assistant Republican leader in the state House of Representatives.
He also is on the radar of the U.S. Drug Enforcement Administration, a hero of High Times Magazine.
"He had to get fingerprinted," farmer Howard Hove said, laughing as he watched his friend mingle at church. "And a background check!"
Monson, 56, wants to be the first U.S. farmer licensed to experiment with industrial hemp.
Although it is a crop with a patriotic past, it is suspect now, guilty by association with its horticultural cousin, cannibis.
Hemp has trace amounts of tetrahydrocannabinol, or THC, the substance that makes marijuana a drug, and since 1970, the DEA has classified hemp -- with marijuana and heroin -- as a controlled substance.
Monson farms 25 miles from Canada, where hemp acreage has grown sixfold since 2004 as Canadian farmers have tapped into new and growing markets for the scraggly, fibrous plant, which is used to make clothing, textiles, diapers, footwear, foods and other products.
Monson wants to try growing it as an alternative to traditional crops plagued by disease or depressed prices.
The advocacy group Vote Hemp estimates the U.S. hemp products business at $270 million and growing. But that business -- including the Minneapolis-based French Meadow Bakery, with its nationally marketed hemp-seed bread -- now depends on seeds and stalks imported from Canada and Europe, where hemp was rehabilitated in the 1990s.
Ten years ago, Monson won legislative approval for research into hemp's potential as a cash crop in North Dakota. In 1999, the Legislature adopted his resolution urging Congress to unhitch marijuana and hemp, and the state set up a grower application process.
This month, Monson was the first to apply.
"I had to go up to my sheriff's office and get fingerprinted," he said. "That cost $2. Then I had to pay $52 to the state agriculture commissioner and $150 to the attorney general for a background check."
That wasn't bad, he said. But the federal fees total $3,400 and are nonrefundable, and there's no guarantee the DEA will accept the application.
North Dakota's agriculture commissioner, Roger Johnson, has asked the DEA to waive fees for all farmers seeking a hemp license.
"We haven't heard back," Monson said.
A Small Patch To Start
Monson plans to raise hemp on only 10 acres at first, a demonstration crop, but under federal regulations, the acreage still must be completely fenced and reported by GPS coordinates. All hemp sales also must be reported.
"That's a per-acre cost of about $400, and that would be prohibitive," Monson said.
Hemp used to be a legal and valued crop in the United States. George Washington sang its praises, and during World War II, the federal government promoted its cultivation for the production of rope and other wartime needs.
That's cool, the DEA says, but the agency fears legal hemp could lead to legal marijuana. Also, growers could hide pot plants in hemp fields, complicating agents' efforts to find them, said Tom Riley, of the White House Office on National Drug Control Policy.
"You have legitimate farmers who want to experiment with a new crop," Riley said. "But you have another group, very enthusiastic, who want to allow cultivation of hemp because they believe it will lead to a de facto legalization of marijuana.
"Why is High Times Magazine so enthusiastic about hemp? Because they care about fiber?"
Drug gangs already cultivate marijuana on remote public lands in California, Riley said.
"The last thing law-enforcement people need is for the cultivation of marijuana-looking plants to spread," he said. "Are we going to ask them to go through row by row, field by field, to distinguish between legal hemp and marijuana?"
Hemp in Minnesota?
Kevin Edberg, former head of marketing for the Minnesota Department of Agriculture, has tracked the status of industrial hemp for years and said there has been little movement recently to support its reintroduction here.
But six other states have passed legislation and are poised to follow North Dakota's lead. California joined the parade last year, but Gov. Arnold Schwarzenegger vetoed the bill.
When Monson's first hemp bills came before the North Dakota Legislature, hemp advocates from California arrived in Bismarck to testify.
"They were mostly hippies," Monson said, smiling. "But some had roots in North Dakota, and they did a great job."
He endured teasing: Was his farm going to pot? How was his weed control?
But his neighbors and legislative colleagues understand that hemp could help save farms, he said, and that could sustain towns, schools, Main Street shops and churches.
"In '93, we started having trouble with 'scab' in our wheat and barley, and it devastated us," Monson said. "Besides giving us another crop, this could mean new industry and jobs."
Rope, Not Dope
Jerry Lykken, handing out church bulletins last week, said he would consider adding hemp to his wheat, canola and corn.
"I usually try all the new crops," he said.
So might Hove, although "it's kind of spendy to get into it, with the fees and all," he said.
James Robertson is skeptical, too. "I've seen them harvest hemp in Canada," the Osnabrock farmer said. "I've seen how tall it grows, up to eight or nine feet, and how lush it grows, making it a challenge to harvest. I think I'll let someone else try it first."
That could be his friend Monson, who probably hasn't heard the last joke.
"If it looks like marijuana, Dave might come home one night and find an acre missing," Robertson said, laughing. "Fence or no fence."
Staff writer Bob von Sternberg contributed to this report.
Note: N.D. farmer says he is only looking for a new cash crop.
Complete Title: Industrial Hemp Producer? Plan Riles Feds' Suspicions
"True, the Founding Fathers had provided for a specific right to bear arms, but the only reason they'd nothing to say to about the right to plant seeds (was)... because it never would have occurred to them that any state might care to abridge that right. After all, they were writing on hemp paper."
Will Fulton - Marijuana Grower
A No for Hemp, Yes for Partners By Lynda Gledhill
Old Glory may carry a 'Made in China' label
Genuine Hemp US Flag
Contact:
[email protected]
*
Website
"The last thing law-enforcement people need is for the cultivation of marijuana-looking plants to spread. Are we going to ask them to go through row by row, field by field, to distinguish between legal hemp and marijuana?"
Tom Riley, White House Office on National Drug Control Policy
Seems it's a very high priority for D.E.A.th to keep hemp illegal.
Statistics look better mixing the two together.
Saving our kids from nutrition and stronger fibers.
DdC
Eradicated Marijuana Is 98 Percent Hemp Ditchweed
AP Story Proves Value of Hemp Farming
Man Aims To Become Licensed Hemp Farmer
Cannabis Hemp: The Invisible Prohibition Revealed
Biodiesel: The Fuel That Doesn't Kill Us
By Joshua Scheer
CN Source: AlterNet February 06, 2007 USA
Editor's Note:
Annie Nelson, wife of Willie Nelson and co-chairperson of the Sustainable Biodiesel Alliance, spoke to Joshua Scheer about the myth that alternative fuels are years away.
Scheer:
Did you see the State of the Union?
Nelson:
Yeah, I stomached as much as I could.
Scheer:
Did you see what the president said about ethanol? ... He did say one sentence or one line about biodiesel. Did any of that resonate with you?
Nelson:
Yeah, about as much as it did the last time he said it. I mean, it's all a bit of -- it's just talk. You know, they give 13 gazillion dollars to the oil and gas industry as some welfare for these people who are making phenomenal historic record-breaking profits, and less than -- I think it's 7.7 [billion] for research into alternative fuels which are already here. It's lip service. It's all lip service.
Scheer:
And what's your involvement in biodiesel?
Nelson:
Pretty much we're proponents. I don't know how else to say it. We're in production. We have partnerships with Pacific Biodiesel Texas and Pacific Biodiesel, and we are doing community production of biodiesel. And our intent is to keep them community [based] and then promote that idea where each community ... can and should create their own fuel, and let that be the market for the community.
Scheer:
What is biodiesel?
Nelson:
It is the fuel that obviously powers -- I'm going to go real elementary, right?
Scheer:
Yeah.
Nelson:
The fuel that powers a diesel engine. Biodiesel needs to run in a diesel engine, and what it does -- where it comes from are several sources. It can come from recycled cooking oil, which then keeps that junk out of landfills; several plant seed stocks from seeds and those types of things; the rendering of animals, just you name it. There are tons of ways to get it. There's a process where they remove the glycerin -- that's biodiesel. You can put pure cooking oil into your car, but you have to have a converter inside of it. But just any regular diesel [vehicle] can run on biodiesel because it's been refined, which means the glycerin has been taken out.
Scheer:
So ... you can actually drive on recycled cooking oil?
Nelson:
Yes, the diesel engine was designed to run on peanut and hemp oil, not petroleum. But then again Rudolf Diesel disappeared over the Atlantic. It never was intended to run on petroleum, and in fact I think an interesting connection is if you go -- if you check out the Prohibition era, when the government was going after stills that were on farms and such, a lot of those stills were producing ethanol and biodiesel for -- mainly ethanol -- for farm production, for their machinery. That's what happened. There were so many people involved in it, in that whole deal, that Prohibition was probably a whole lot less about alcohol and a whole lot more about killing the renewable energy possibilities. Obviously the petroleum companies were behind it.
Scheer:
What's the difference between biodiesel and ethanol?
Nelson:
Well, ethanol is almost like -- and I'm not an expert on ethanol at all, so let me just put that disclaimer in there immediately -- it's more like a grain alcohol, almost. It's from sugar. It's a plant that needs to have a particular cellulose to create a gasoline-type fuel. But it's mainly turning the sugar into fuel.
Scheer:
With ethanol we know how much money has been given to Iowa and other states where ethanol is being produced. On Biodiesel.org, they say there's no government program to support them. Do you have an opinion on that?
Nelson:
Biodiesel.org is an actual biodiesel board and there are many others. They're just one entity, and they're fine. They tend to have a lot more large producers and a lot of soybean people. Our whole deal, and we just actually formed -- Daryl Hannah and I are co-chairs and Kelly King and Laura Louie, who is Woody Harrelson's wife, and a group of us just formed the Sustainable Biodiesel Alliance, where our intent is to focus specifically on sustainable community biodiesel production.
And if it ends up being ethanol as well at some future date, that's fine, but the whole point is to keep it community -- to eliminate the ADMs and the Cargills and those people ... large oil companies from just transferring their monopoly on Middle Eastern oil to home-produced, naturally produced fuel. Right now they can ... it's really a matter of connecting the farm bill with our national security bills and those types of things without allowing one group or one industry to control our energy, whether it be from the Middle East or from our own country. If it's domestically produced, that should be domestically distributed as well. We're here to protect the family farmers and the community co-ops that want to produce their own fuel and sell it.
Scheer:
Are there stations where people can fill up? One of the problems with ethanol has been transporting it and getting it to the public.
Nelson:
People actually produce it all over the country. We do our tours through this whole country, and we do it on biodiesel. At least a blend. At minimum, it's a blend of biodiesel. We try to do 100 percent whenever we can ... So, it's out there. It's already available. The funny thing about why $7.7 billion was given to renewable fuels -- and that 7.7 is spread out between wind and geothermal and biomass and ethanol and biodiesel and others -- that's spread out amongst all of them. When 13 point something billion is given to the oil and gas industry and coal, and then another 12 to nuclear.
So it's kind of serious, but instead of doing that, let each community -- that's our deal -- to connect communities and make sure that they can produce their own fuels so they're not dependent on one of these corporations that have already proven that they could care less about these people's interests, and do their own. Make their own fuel. Make their own security, which gives everybody in this country security because not one person or organization is controlling the market. What's the difference between OPEC and a group of American oil companies who control our prices?
Scheer:
There's a list of gas stations on Biodiesel.org and a few other of these sites ...
Nelson:
There are gas stations. What they have a list of is people who are members. There are other people besides them -- many, many other people that are producing biodiesel. When we put the Sustainable Biodiesel Alliance online, it will be to help people connect to where they can get fuel around the country and, at the same time, promote community-based fueling stations where people can pull off the highway and fill up with whatever blend they need or 100 percent.
So that is something that just hasn't been put together. That's what we're going for. It exists out there -- a lot of people making fuel. We're some of them. In fact, if there was even more help, this would go big guns, but it also takes the profit away from some people that are in control right now.
Scheer:
During the State of the Union, the president said he would try and reduce foreign fuel by [20] percent by 2017. You're saying ...
Nelson:
We're already doing it. There are so many people already doing it. In fact, taking people and putting them back on land. Even if we just put them back on their land and let them buy their farms back. Put them back on land that's sitting fallow right now. Let them grow food for ourselves and fuel. Then each community would start thriving again.
You've got people out of the city, so there would be less congestion in the city. People on land, where they're not [driven] insane by the inner city, where that's not where they belong anyway. Put them back on the land, let them grow our fuel, let them grow our food, have it be sustainably grown, and then we eliminate -- well, first we would eliminate, by getting them out of the city, the congestion of carbon fibers in the air, plus if they're going to be using renewable fuels -- and specifically I can speak for biodiesel, if up to 100 percent, you can eliminate 99 percent of particulates in the air.
So why wouldn't we do that? People don't want to be in the city, people want to be on their land; they never wanted to leave it to begin with. They got thrown off their land because the market is manipulated. So we put them back on it and allow them to earn ownership -- we did that in the '30s -- but allow them to earn their ownership back, and let them produce food and fuel for us -- fuel that doesn't kill us, and grow it sustainably so it doesn't kill the water and everything around us either. It doesn't make sense not to.
Then you have thriving communities ... when you put people back on the land then you need a grocery store, you need businesses that sustain those people. They have to buy their farm products somewhere, they have to buy their feed somewhere, when you get them back out there, you get those communities thriving again, and the heartbeat of America gets a little defibrillation -- and certainly the economy. How is that bad? It's not. It's good for everybody; it's just not great for those few who want it to be just good for them.
Contact:
[email protected]
*
Website
*
DL
Bio Diesel
Willie Nelson Bio Diesel
Willie Nelson and his wife, Annie Feb. 23, 2000 file photo.
First Hemp Licenses Issued By Blake Nicholson
Source: Bismarck Tribune February 07, 2007 N.D.
North Dakota officials have issued the nation's first licenses to grow industrial hemp, though they do not guarantee that farmers will actually be able to grow the crop. Farmers Dave Monson and Wayne Hauge, who got the state licenses Tuesday, still must meet federal requirements before they can plant their fields. The Drug Enforcement Administration requires a $2,293 annual registration fee, which is nonrefundable even if the agency does not grant a farmer permission to grow hemp.
Continued...cannabisnews/22603
CannabisNews Hemp Archives
N.D. Issues Nation's First Hemp Permits
Cannabis Fuel
Hemp Car
FTE's Hemp Links
Hemp Car Rolls Into Minnesota on Big Trip
Hemp Powered Car Tours US, Canada
Car Fueled by Hemp Oil on Real Trip
Hemp Car To Make Record 10,000-mile Trip
Fossil Fools
Put Hemp in Your Tank
Ganja/hemp lnfolinx
Thousands of products to harvest into jobs, housing and oil free clothing and food...
Shadow of the Swastika
Don't Step On The Grass
Refill Madness By Erik Baard
Source: Village Voice August 09, 2001
While high-powered lobbyists clashed, seduced, and debated their way to a House energy bill last Wednesday that called for drilling Arctic preserves and left renewable fuel by the wayside, the dialogue at the helm of one alternative-fuel program went something like this: "Where are we parking? I don't see any place to park." "I dunno. Where are you looking?" "Are we parking here?"
Such was the chatter inside the confusedly circling Hemp Car, a 1983 Mercedes station wagon powered by oil squeezed from cannabis seeds and converted into biodiesel, a cleaner vegetable substitute for the petroleum product.
SHADOW OF THE SWASTIKA
"I think people need to be educated to the fact that marijuana is not a drug.
Marijuana is an herb and a flower. God put it here.
If He put it here and He wants it to grow,
what gives the government the right to say that God is wrong?"
- Willie Nelson
Shocking! Willie Nelson Busted for Pot
Willie Nelson: Excerpts on Hemp and the Family Farm
Hemp For Houses
hempology
WILLIE NELSON ENDORSES KUCINICH FOR PRESIDENT
Willie wrote this song on Christmas, 2003, and performed it for the first time at the Kucinich for President fundraising concert in Austin, Texas, on Jan. 3, 2004.
From: tesla 30 Dec 2003
There's so many things going on in the world
Babies dying Mothers crying
How much oil is one human life worth
And what ever happened to peace on earth
We believe everything that they tell us
They're gonna' kill us
So we gotta' kill them first
But I remember a commandment
Thou shall not kill
How much is that soldier's life worth
And whatever happened to peace on earth
(Bridge) And the bewildered herd is still believing
Everything we've been told from our birth
Hell they won't lie to me
Not on my own damn TV
But how much is a liar's word worth
And whatever happened to peace on earth
So I guess it's just
Do unto others before they do it to you
Let's just kill em' all and let God sort em' out
Is this what God wants us to do
(Repeat Bridge) And the bewildered herd is still believing
Everything we've been told from our birth
Hell they won't lie to me
Not on my own damn TV
But how much is a liar's word worth
And whatever happened to peace on earth
Now you probably won't hear this on your radio
Probably not on your local TV
But if there's a time, and if you're ever so inclined
You can always hear it from me
How much is one picker's word worth
And whatever happened to peace on earth
But don't confuse caring for weakness
You can't put that label on me
The truth is my weapon of mass protection
And I believe truth sets you free
(Bridge) And the bewildered herd is still believing
Everything we've been told from our birth
Hell they won't lie to me
Not on my own damn TV
But how much is a liar's word worth
And whatever happened to peace on earth
Hemp and the Family Farm
Willie Nelson (Thread)
Cha! Coalition for Hemp Awareness
POB 9266 Chandler Heights AZ 85227
602 988 9355
[email protected]
Vote Hemp Exposes ONDCP and DEA Lies About Hemp
CN Source: PRNewswire February 08, 2007 Washington, DC
Onin the Minneapolis Star Tribune story "Industrial hemp producer? Plan raises feds' suspicions," Tom Riley of the White House Office on National Drug Control Policy (ONDCP) was quoted as saying: "You have legitimate farmers who want to experiment with a new crop," Riley said. "But you have another group, very enthusiastic, who want to allow cultivation of hemp because they believe it will lead to a de facto legalization of marijuana." Mr. Riley continued with "The last thing law enforcement people need is for the cultivation of marijuana-looking plants to spread.
Are we going to ask them to go through row by row, field by field, to distinguish between legal hemp and marijuana?" "The ONDCP is wrong in its characterization of industrial hemp advocates, and there is no evidence that farmers who grow industrial hemp are hiding marijuana plants in their fields, whether in Canada or anywhere else," says Vote Hemp President Eric Steenstra. "Because cross pollination of low THC industrial hemp and high THC marijuana is inevitable illicit marijuana growers avoid industrial hemp fields to protect the potency of their drug crop.
It's simply illogical that a farmer's industrial hemp fields are ideal places to hide marijuana plants with all the extra scrutiny that comes with growing the crop. It's sad that, instead of a real policy debate on the issue of farming industrial hemp in the United States based on legislative intent and agronomic facts, the ONDCP and the Drug Enforcement Administration (DEA) resort to false hyperbole and character assassination," says Steenstra.
"Tom Riley is welcome to join me in Canada this summer for the Hemp Industries Association annual meeting and see for himself how our neighbors in the north can easily tell the difference between industrial hemp and marijuana crops." Hemp farming in Canada is well regulated ensuring that only legitimate farmers are licensed and that they only grow government approved low-THC hemp.
Requirements include applicant background checks, GPS coordinates of hemp fields, the use of approved low-THC seeds purchased from authorized seed vendors, and random inspections and testing. This licensing scheme ensures that farmers are only growing non-drug industrial hemp and not marijuana.
Even though law enforcement is able to distinguish the difference between hemp and marijuana, the licensing process eliminates the need for them to visually distinguish between industrial hemp and its drug psychoactive cousin. The lies about industrial hemp are prevalent in the public policy of the DEA as well.
Steve Robertson, a DEA special agent in Washington, has also weighed in on the North Dakota debate with similar statements: "The DEA does not have the authority to change existing federal law," Robertson said. "It's very simple for us: The law is there and we enforce the law," he said Wednesday.
"We are law enforcement, not lawmakers." "State's first hemp farming rules aimed at clearing federal hurdle" Grand Forks Herald, May 3, 2006 "It's interesting that Special Agent Robertson pretends that the DEA is purely a law enforcement entity, as they are not," says Tom Murphy, National Outreach Coordinator for Vote Hemp.
"Like many Federal agencies, the DEA has been granted broad authority by Congress to interpret the statutes in the United States Code, such as the Controlled Substances Act (CSA).
This includes re-scheduling substances and promulgating detailed rules and regulations. The DEA could easily negotiate industrial hemp farming rules with North Dakota under the Administrative Procedures Act, 5 USC 563. It is obvious that the current rules are not set up for farmers to grow an agricultural crop that has no potential for use as a drug" says Mr. Murphy.
"Instead the DEA chooses to interfere in the legislative process by confusing legislators, reporters and the public with needless and misleading rhetoric." Industrial hemp plants have long and strong stalks, have few branches, have been bred for maximum production of fiber and/or seed, and grow up to 16 feet in height.
They are planted in high densities of 100 to 300 plants per square yard. On the other hand, drug varieties of Cannabis are shorter, are not allowed to go to seed, and have been bred to maximize branching and thus leaves and flowers. They are planted much less densely to promote bushiness. The drug and non-drug varieties are harvested at different times, and planting densities look very different from the air.
The last commercial hemp crops in the United States were grown in central Wisconsin in 1957, and these crops were purchased and processed by the Rens Hemp Company in Brandon, about 40 miles northwest of Milwaukee. The primary reason industrial hemp has not been grown in the U.S. since then is because of its misclassification as a Schedule I drug in the CSA of 1970.
The Marihuana Tax Act of 1937 had provisions for farmers to grow non-psychoactive hemp by paying an annual occupational tax of $1.00. The exemption for hemp products was contained in the definition of marihuana in the Act: "The term 'marihuana' means all parts of the plant Cannabis sativa L. ... but shall not include the mature stalks of such plant, fiber produced from such stalks, oil or cake made from the seeds of such plant, any other compound, manufacture, salt, derivative, mixture, or preparation of such mature stalks (except the resin extracted therefrom), fiber, oil, or cake, or the sterilized seed of such plant which is incapable of germination."
The language of the exemption was carried over almost verbatim to the definition of marihuana in the CSA [21 U.S.C. §802(16)] which superseded the 1937 Tax Act, but since there was no active hemp industry at the time the provisions for hemp farming were not included in the new Act. There is also an exemption for hemp farming in the United Nations Single Convention on Narcotic Drugs, 1961 as amended by the 1972 Protocol Amending the Single Convention on Narcotic Drugs, 1961.
Article 28 states that: "2. This Convention shall not apply to the cultivation of the cannabis plant exclusively for industrial purposes (fibre and seed) or horticultural purposes." Laws allowing the farming of industrial hemp would not be in conflict with the Single Convention which the U.S. is a signatory. Seven states (Hawaii, Kentucky, Maine, Maryland, Montana, North Dakota and West Virginia) have now changed their laws to give farmers an affirmative right to grow industrial hemp commercially or for research purposes.
All require a license from the DEA to grow the crop. Only Hawaii has grown hemp in recent years, but its research program ended when the DEA refused to renew the license. California's AB1147 addressed the DEA's bad faith interference by providing that the federal government has no basis or right to interfere with hemp grown in California pursuant to AB1147.
Vote Hemp is a non-profit organization dedicated to the acceptance of and a free market for industrial hemp and to changes in current law to allow U.S. farmers to grow low-THC industrial hemp.
More information about hemp legislation and the crop's many uses can be found at:
VoteHemp.com
BETA SP and DVD Video News Releases featuring footage of hemp farming in other countries are available upon request by contacting Adam Eidinger at 202-744-2671.
Note:
Canadian Govt. Can Tell Difference Between Hemp and Marijuana, Why Can't the U.S.?
Complete Title:
Vote Hemp Exposes ONDCP and DEA Lies About Hemp Farming
Contact:
[email protected]
*
Website
Vote Hemp
Hemp Producer? Plan Riles Feds' Suspicions
AP Story Proves Value of Hemp Farming
Man Aims To Become Licensed Hemp Farmer
North Dakotans still fighting for hemp-farming approval.
Hemp Tech
Hemp Farming Act of 2007 Introduced in Congress
CN Source: PRNewswire February 13, 2007 Washington, DC
For the second time since the federal government outlawed hemp farming in the United States, a federal bill has been introduced that would remove restrictions on the cultivation of non-psychoactive industrial hemp. The chief sponsor of H.R. 1009, the "Industrial Hemp Farming Act of 2007," is Representative Ron Paul (R-TX) and the nine original co-sponsors are Representatives Tammy Baldwin (D-WI), Barney Frank (D-MA), Raul Grijalva (D-AZ), Maurice Hinchey (D-NY), Dennis Kucinich (D-OH), Jim McDermott (D-WA), George Miller (D-CA), Pete Stark (D-CA) and Lynn Woolsey (D-CA).
The bill may be viewed online at:
votehemp.com/federal
"It is indefensible that the United States government prevents American farmers from growing this crop. The prohibition subsidizes farmers in countries from Canada to Romania by eliminating American competition and encourages jobs in industries such as food, auto parts and clothing that utilize industrial hemp to be located overseas instead of in the United States," said Dr. Paul. "By passing the Industrial Hemp Farming Act the House of Representatives can help American farmers and reduce the trade deficit -- all without spending a single taxpayer dollar."
U.S. companies that manufacture or sell products made with hemp include Dr. Bronner's Magic Soaps, a California company who manufactures the number-one-selling natural soap, and FlexForm Technologies, an Indiana company whose natural fiber materials are used in over 2 million cars. Hemp food manufacturers such as French Meadow Bakery, Hempzels, Living Harvest, Nature's Path and Nutiva now make their products from Canadian hemp. Although hemp grows wild across the U.S., a vestige of centuries of hemp farming, the hemp for these products must be imported. Health Canada statistics show that 48,060 acres of industrial hemp were produced in Canada in 2006. Farmers in Canada have reported that hemp is one of the most profitable crops that they can grow. Hemp clothing is made around the world by well-known brands such as Patagonia, Bono's Edun and Giorgio Armani.
There is strong support among key national organizations for a change in the federal government's position on hemp. The National Association of State Departments of Agriculture (NASDA) "supports revisions to the federal rules and regulations authorizing commercial production of industrial hemp." The National Conference of State Legislatures (NCSL) has also passed a pro-hemp resolution.
Numerous individual states have expressed interest in industrial hemp as well. Fifteen states have passed pro-hemp legislation; seven (Hawaii, Kentucky, Maine, Maryland, Montana, North Dakota and West Virginia) have removed barriers to its production or research. North Dakota has issued state licenses, the first in fifty years, to two farmers so far. Rep. Paul's bill would remove federal barriers and allow laws in these states regulating the growing and processing of industrial hemp to take effect.
"Under the current national drug control policy, industrial hemp can be imported, but it can't be grown by American farmers," says Eric Steenstra, president of Vote Hemp. "The DEA has taken the Controlled Substances Act's antiquated definition of marijuana out of context and used it as an excuse to ban industrial hemp farming. The Industrial Hemp Farming Act of 2007 will bring us back to more rational times when the government regulated marijuana, but told farmers they could go ahead and continue raising hemp just as they always had," says Mr. Steenstra.
More information about hemp legislation and the crop's many uses can be found at
VoteHemp.com
BETA SP and DVD Video News Releases featuring footage of hemp farming in other countries are available upon request by contacting Adam Eidinger at 202-744-2671. CONTACT: Tom Murphy of Vote Hemp, 207-542-4998 or
[email protected]
Note: H.R. 1009 Would Give States Right to Regulate Farming of Versatile Hemp Crop.
Contact:
[email protected]
*
Website
Vote Hemp Exposes ONDCP & DEA Lies
Hemp Producer? Plan Riles Feds' Suspicions
AP Story Proves Value of Hemp Farming
High on Hemp
High on Hemp
Vote Hemp Exposes ONDCP and DEA Lies About Hemp
Hemp Producer? Plan Riles Feds' Suspicions
Bring On The Hemp
Cannabis as Repellent and Pesticide
Gobble warning Global warming.
Foreign Fossil Fuel Junkies.
Poison and prisons priority.
Plastics from veggies.
Biomass and Biodiesel.
Fiber plywood and paper.
Nutrition prohibition.
Farmers chemically dependent.
Monsanto reaping with Exxon Mobil.
We get sick from all of it,
then jailed for naturally relieving symptoms.
Heavy Metal Fertilizers hiding toxic waste.
Grain and cattle, cotton chemical contamination.
Agent Orange to rid competition.
Scam of scams lies upon lies.
D.E.A.th is a tool of the New Weird Odor.
DdC
Cannabis as repellent and pesticide
John M. McPartland
VAM/AMRITA 53 Washington Street, Middlebury, VT 05753 USA
McPartland, John M. 1997. Cannabis as repellent and pesticide.
Journal of the International Hemp Association 4(2): 87-92 Cannabis has been used as a pest repellent and pesticide in a variety of formulations. It has been planted as a companion crop to deter insects, nematodes, fungi, and weedy plants.
Dried leaves and flowers have repelled or killed insects, mites, nematodes, and weeds. Plant extracts (either aqueous or polar organic solvent extracts) have killed or repelled insects, mites, nematodes, fungi, weedy plants, bacteria, and protozoans.
Pure cannabinoids reportedly inhibit or kill bacteria, fungi, and insects. The validity of some of these reports is debated. Most of the scientific literature describes in vitro experiments, few studies concern field work. Utilizing left-over Cannabis leaves against pests appears to be a possible use for this harvest residue.
Introduction
Certain plants with repellent and pesticidal properties have long been used to rid our crops, homes, and bodies of various pests (Grainge and Ahmed 1988).
Famous examples include garlic (Allium sativum L.), castor (Ricinus communis L.), marigold (Tagetes patula L.), tansy (Tanacetum vulgare L.), neem (Azadirachta indica L.), pyrethrum (Chrysanthemum cinerariifolium (Trevir.) Vis.), tobacco (Nicotiana tabacum L.), and strychnine (Strychnos nux-vomica L.).
Cannabis has also been used as a pest repellent and pesticide. This paper documents these uses from the scientific literature.
Continued...mojo.calyx/olsen/IHA/4210
N.H. House Approves Growing Hemp
By Norma Love
CN Source: Associated Press April 06, 2007 Concord, N.H.
The House voted Thursday to allow farmers to grow hemp _ a close relative of marijuana _ despite federal hurdles to planting the controversial crop. Supporters pointed out that hemp, which has a very low content of THC, the psychoactive ingredient in marijuana, has unfairly been characterized as the same as marijuana. ''You don't smoke hemp. A wheelbarrow full would only make you sick,'' insisted Hopkinton Democrat Derek Owen.
Continued...cannabisnews/22846
Marijuana/Hemp The Untold Story
jackhere/chapters
Prove us wrong! Prove us wrong! Prove us wrong!

We hereby extend our $100,000 challenge to prove us wrong!
If all fossil fuels and their derivatives, as well as trees for paper and construction, were banned in order to save the planet, reverse the greenhouse effect and stop deforestation;
then there is only one known annually renewable natural resource that is capable of providing the overall majority of the world's paper and textiles; meet all of the world's transportation, industrial and home energy needs, while simultaneously reducing pollution, rebuilding the soil and cleaning the atmosphere all at the same time...
and that substance is the same one that has done it before . . . CANNABIS/HEMP/MARIJUANA!
CANNABIS/HEMP/MARIJUANA is the only known plant that can be grown from the Equator to the Arctic Circle and to the Antarctic Circle; from the mountains to the valleys, from the oceans to the plains, including arid lands and everywhere in between.
CANNABIS/HEMP/MARIJUANA is the healthiest plant for the ground out of the 300,000 known species, and the millions and millions of subspecies, of plants on Earth, because it has a root system that grows 10 to 12 inches in 30 days compared to one inch for rye, barley grass, etc. The roots penetrate up to 6 feet deep, pulverizing the soil and making it arable.
After harvest it leaves a root system that is mulched into the ground, revitalizing the land and making it live once again. It is the KING KONG of the King Kongs of all plant life.
continued...jackherer.com
Fear in the Fields
(July 3 - 4, 1997)
A Seattle Times investigation found that, across the nation, industrial wastes laden with heavy metals and other dangerous materials are being used in fertilizers and spread over farmland. The process, which is legal, saves dirty industries the high costs of disposing of hazardous wastes.
Part I: Spreading heavy metals on farmland is legal, but is it safe?
What's known, and not known, about toxics and soil
Part II: Lack of regulation leaves farmers, consumers guessing
Example after example, throughout the country
Experts: How to reduce risk
Follow-up stories
(July - September 1997)
Farmers press state officials for action on fertilizers
Even advocate of using waste in fertilizer wants tighter laws
Food processors ask state for regulations on toxins in fertilizer
A first step toward labeling toxins in fertilizer
Locke: Test, label fertilizers
McDermott drafting bill to regulate fertilizers
EPA to review use of industrial waste in fertilizer
State proposes tougher fertilizer rules
Fertilizer industry to pay for study of health risks
Q & A: The practice of recycling wastes
HEMP FACTS
-A normal stand of 200 to 300 plants per square meter shades out weeds, leaving the fields weed-free at harvest and covered in leaves that improve the soil in a self-mulching eco-system.
John W. Roulac, Hemp Horizon
-Industrial hemp can be grown on a wide variety of soil types, but tends to grow best on land that produces high yields of corn.
"Hemp Defined" North American Industrial Hemp Council (NAIHC)
-Environmentally, hemp is a safer crop to grow than cotton. Cotton is a soil-damaging crop and needs a great deal of fertilizers, herbicides and pesticides.
"Frequently Asked Questions about Cannabis Hemp" Brian S. Julin, 1994
-Cotton crops in the USA occupy 1% of the country&rsquos farmland but use 50% of all pesticides.
The Emperor Wears No Clothes, Jack Herer, 1993
-1 acre of hemp will produce as much as 2-3 acres of cotton.
"Marijuana and Hemp: The Untold Story" Thomas Bouril, 1997
-Hemp planting reduces deforestation and improves the soil upon which it is grown.
"Hemp Horizons: The Comeback of the World's Most Promising Plant" John W. Roulac1997
Toxic Pesticides Above Safe Levels in Many U.S. Residents
Pesticide Action Network . (Source)
Many U.S. residents carry toxic pesticides in their bodies above government assessed "acceptable" levels, according to Chemical Trespass: Pesticides in Our Bodies and Corporate Accountability a report released today by Pesticide Action Network North America (PANNA) and partner groups in more than 20 cities. Analyzing pesticide-related data collected by the U.S. Centers for Disease Control and Prevention (CDC) on levels of chemicals in 9,282 people nationwide, the report reveals that government and industry have failed to safeguard public health from pesticide exposures.
Continued...organic/aunews2004.05
The Legacy of Agent Orange in Vietnam
Thirty years after hostilities ended between the US and Vietnam, relations remain strained by one of America's most notorious actions, the use of the chemical Agent Orange.
Vietnam's War Against Agent Orange
The Vietnam War ended in 1975, but the scourge of dioxin contamination from a herbicide known as Agent Orange did not.
Requiem Agent Orange
Decades after the U.S. dusted Vietnam with herbicides, scientists and civilians tally the damage.
Monsanto Hid Decades of PCB Pollution
PCBs drenched Alabama town, but no one was ever told.
Denmark Bans Glyphosates, The Active Ingredient In Roundup
Denmark has imposed widespread bans on the spraying of glyphosate in response to research showing that the sprays have been contaminating the countrys groundwater.
Global Recognition Campaign for Multiple Chemical Sensitivity
Chemical Injury, Chemical Hypersensitivity, Environmental Illness and other chemically induced illnesses and diseases affecting Civilians and Military personnel.
Chem-Tox: Pesticides/insecticides, herbicides
Terrible Health Dangers - when are we going to realise the widespread
devastation of these dangerous chemicals and stop using them!
War on Drugs Takes Toll on Environment
By Margot Higgins
Source: Environmental News Network March 22, 2001
The U.S. government's war on drugs in Colombia is poisoning the environment and jeopardizing the health of local farmers, said four of the country's governors during a recent visit to Washington, D.C.
Assisted by a $1.3 billion U.S. aid package that was approved last summer, the Colombian army has significantly increased aerial fumigation operations throughout southern Colombia in recent months. The aerial sprays of Roundup Ultra, an herbicide containing glyphosate, are targeted at coca plants, the source of cocaine.
According to the Colombian army, about 75,000 acres of coca plants out of 295,000 acres cultivated annually have been destroyed as of Feb. 15, 2001.
The destructive herbicides are non-selective, however, and they have also wiped out subsistence crops such as corn and yucca. The U.S. State Department maintains that the herbicides are safe, but they contain two chemicals that not used in the United States.
Critics say the eradication program is wiping out natural plants and killing birds, mammals and aquatic life in the fragile Amazon ecosystem. The herbicides are also linked to a variety of eye, respiratory, skin and digestive ailments.
Complaints of vomiting and skin rashes have increased 60 percent in the Putumayo region since the herbicide campaign
Continued...cannabisnews/9115
United States National Institute of Health, University of Mississippi marijuana plantation site, showing variation in plant size. A tall fiber-type of hemp plant is shown at left, and a short narcotic variety (identified as "Panama Gold") at right.
Multiple Studies Show that Monsanto's Roundup is Toxic
GM WATCH Daily, March 20, 2007
Colombians Condemn Monsanto
for Attacks on Nation's Biodiversity with Toxic Herbicide & GMO Seeds
monsantosucks
GE COTTON BITES
In India the financial figures for the 2002 cotton growing season have finally been crunched. Although Monsanto convinced many of India's farmers that buying the more expensive GE cotton seeds would result in higher yields and better cotton, the reverse is actually true. Crop yields for GE cotton were 5 TIMES LESS than traditional Indian cotton and the income from GE cotton was 7 TIMES LESS than conventional cotton due to Monsanto's cotton having lower quality short fibers. As a result of the insurmountable deluge of debt accrued from paying more for the GE seeds and having a cruddy crop, more than 70 Indian farmers have committed suicide in the last three months.
Continued...organicconsumers/cotton
Monsanto employees and government regulatory agencies employees are the same people!
CompanyEthics.com
for information on other unethical companies.
PVC The Poison Plastic Campaign
PVC (polyvinyl chloride) products are everywhere and are dangerous to our health and
environment from start to finish - in the factory, at home, and in the trash - releasing
poisonous chemicals linked to cancer and birth defects.
The good news is that safe, cost-effective, alternatives to PVC are readily available and
responsible companies are phasing it out.
Plastic Composites for the Automobile and Other Manufacturing Sectors
C-class Mercedes-Benz automobiles have more than 30 parts made of natural fibers, including hemp. (Courtesy of T. Schloesser, Daimler-Chrysler.)
Cannabis Building Materials & Housing
A Brief Summary of the Uses of Hemp
Plastic plumbing pipe (PVC pipes) can be manufactured using renewable hemp cellulose as the chemical feedstocks, replacing non-renewable coal or petroleum-based chemical feedstocks.
Hemp Plastics
- now independantly valued at US$900m industry
The first commercial hemp plastic product has been produced. The CD tray is now available commercially.
Over 200 billion pounds (100 million tons) of plastics are produced each year.
45% of all plastics are produced in the United States.
29% of plastics produced in the US are used for packaging (15% building, 14% consumer)
The packaging market, in the United States alone is worth $100 billion, a quarter of the global market
Continued...hempplastic/faq
North American Demand for Natural Fibers
in Plastic Composites Forecast to Grow 15% to 50% Annually
Tuesday, June 6, 2000
Significant Markets Emerging in Building Products, Automotive Parts, Railroad Ties, Flower Pots, Furniture, and Marine Piers
Hemp Plastic
Zelfo
announces commercial hemp plastic factory -
plastic from plants and 100% biodegradable!
A Modern Introduction To Hemp
- the new book by global hemp consultant Paul Benhaim
- NOW available globally
Hemp Bill Passes Public Safety Committee in Assembly
By Tom Ragan
CN Source: Santa Cruz Sentinel April 30, 2007 Santa Cruz
Elaine Berke, co-owner of Eco Goods in Santa Cruz, would like to see hemp grown legally in California some day. The fact is, hemp products have been popular for a while, but unfortunately it has an unfair stigma attached to it.
People often confuse it with marijuana, even though it's nothing of the sort, she said. "But mostly it's our government that's confused.
There's no question that being able to grow it would be wonderful for our economy," said Berke, who's been selling hemp clothes for more than a decade on Pacific Avenue in Santa Cruz. "There are so many products that can be made out of industrial hemp: clothes, paper, body care, even car parts. Our forefathers used to think it was patriotic to grow it. Hopefully, we can return to those days."
That's where AB 684 comes in.
Introduced in late February, the bill, which has passed the state Assembly's Committee on Public Safety, seeks to legalize hemp so California growers can compete.
The idea is that growers in the state could try to make the same sort of profits that Canadian and Chinese growers are raking in as the No. 1 and No. 2 suppliers of the U.S. market.
Even the Santa Cruz County Farm Bureau supports the legislation, saying industrial hemp, if nothing else, could serve as an alternative crop during the slow season.
But there are two things standing in the way of the legalization: Gov. Arnold Schwarzenegger and the federal government, which still makes no distinction between hemp and marijuana. Schwarzenegger shot down a similar version of legislation that made it to his desk last year in October, saying he didn't think that state law should supersede federal law.
While the governor wrote at the time that said he supports the development of new crops in the state, he added:
"Unfortunately, I am very concerned that this bill would give legitimate growers a false sense of security and a belief that production of 'industrial hemp' is somehow a legal activity under federal law."
Assemblyman Mark Leno, D-San Francisco, who introduced AB 1147 last year and is the co-author of this year's bill, is holding out hope that Schwarzenegger will sign the bill because it is a nonelection year.
Patrick Googin, counsel for Hemp Industries Association and a board member for Vote Hemp, is also optimistic.
"The U.S. is the only country in the First World that can't grow industrialized hemp," said Googin, a San Francisco resident. "Canada has been growing it and selling it for 10 years, and they're sending it here. We're the market."
But so far the governor nor the California Farm Bureau and Federation haven't taken positions on the bill, according to their offices.
Contact:
[email protected]
*
Website
Vote Hemp
CannabisNews Hemp Archives
Eco Goods
Hemp for Victory
By Edward Miller, M.D.
CN Source: Coastal Post May 06, 2007 USA
"Hemp for Victory" is the title of a propaganda film, produced by the US Department of Agriculture for the Department of Defense during WWII encouraging American farmers to resume the growing of commercial hemp. In 1942 the US found itself cut off from Russia, our dependable supplier of hemp, a product needed for ropes and hawsers to secure ships at the wharves, tie down cargo and supply canvas for wrapping.
Continued...cannabisnews/22952
Letter from a DEA Agent to Colorado Legislature re the Hemp Bill
This is a letter written by a DEA agent with the specific intent of killing a bill in the Colorado Legislature which would have permitted the cultivation of hemp for industrial purposes. Because of the lies in this letter, the DEA agent was later relieved of duty.
Reply to the DEA Agent's letter
- Thomas J. Ballanco, Environmental Action Committee, Co-Chair This is the reply to the DEA agent's letter which led to the agent's retirement.
Vote Hemp Exposes ONDCP and DEA Lies About Hemp
Soy's New Competition: Hemp
By Janet Cromley
CN Source: Los Angeles Times May 11, 2007 California
Like a bloodhound, Gira Balistreri is racing through the palatial Whole Foods Market in El Segundo, sniffing out some of her favorite foods.
A new employee at the 65,000-square-foot flagship store, she goes directly to several shelves of hemp shakes and snacks, then trots over to tidy rows of hemp butter and oil, then rushes down an aisle and snaps up a fresh package of hemp tortillas on her way to the hemp bars, hemp bread and hemp bagels.
"Hemp," she says excitedly, "is just an awesome seed."
Balistreri isn't alone in her devotion. In the last two years, sales of hemp food products in markets and grocery stores rose by more than 50%, propelling the unassuming seed to an $8.6-million industry, according to SPINS, a market research and consulting firm for the natural products industry.
Hemp foods began filtering into grocery stores about five years ago, after the 1998 legalization of industrial hemp farming in Canada. The U.S. currently prohibits commercial cultivation of industrial hemp, but allows the import of seeds, oil, flour and other byproducts to be manufactured into ready-to-eat foods in the U.S.
The plant's shelled seed, or nut, can be added to baked goods and nutritional supplements and bars, sprinkled onto other foods such as salads and yogurt, or eaten alone as a snack. The seed can also be milled into flour, which can be used for baked goods, and pressed to make oil, which can be used in salad dressings, dips, spreads and sauces.
(Due to its high unsaturated fat content, hemp oil must be refrigerated and is unsuitable for frying.)
There are hundreds of hemp foods now available online and on supermarket shelves, says Robin Rogosin, a certified nutritionist and buyer for Whole Foods Market. Rogosin estimates that the chain's selection has tripled in the last year.
Hemp milk, the newest addition, is flying off the shelves, she says.
"We're shipping truckloads — 60,000 liters of it so far," confirms Mike Fata, president and co-founder of Canada's Manitoba Harvest, which introduced Hemp Bliss milk in March.
Snipped:
Complete Article:2xt3py
Contact:
[email protected]
*
Website
CannabisNews Hemp Archives
Ron Paul - Legalize Hemp in Arizona
CN Source: Free-Market News Network May 30, 2007 Arizona
Sources close to the campaign of presidential candidate Ron Paul (R-Tex) said that the congressman would probably choose the state of Arizona in which to renew his call for the legalization of industrial marijuana - "hemp."
A call to legalize hemp would be attractive to Arizona's farmers. This stance, combined with anti-war position, might make Ron Paul attractive to a large slice of GOP voters not enamored with many traditional "conservative" positions.
Arizona's large farming community is said to be in favor of the legalization of an additional cash crop such as hemp. There is a large difference between industrial hemp - which contains little of the active ingredient that gets users "high - and marijuana that is actively cultivated for illegal drug use.
"The differences between Ron Paul and other candidates are gradually emerging," said one observer of the campaign. "On one side you have modern day conservative-leaders like John McCain and Rudy Giuliani, and on the other a constitutional conservative Ron Paul. Contrasting their positions gives you a good idea of how far the American leadership has strayed from the Constitution."
According to this observer, "If Ron Paul runs in Arizona on legalizing hemp production, that gives him a leg up over other GOP candidates who would never advocate such a thing." There is already a formidable anti-war sentiment in Arizona that Ron Paul can capitalize on as well, this observer notes.
Ron Paul believes that the Constitution enumerates Federal powers, and that all others are relegated to the states. This is a correct understanding of the Constitution, according to many scholars, though not ones who believe it is a "living document." For this reason, Ron Paul believes Federal drug laws are unconstitutional, besides being a boondoggle of massive proportions.
There is, in fact, no hard evidence that the Federal "war on drugs" has been effective at stemming the flow of drugs and drug use in America or in the West in general. It has, however, swelled the ranks of police officers, militarized them through the creation of "SWAT" teams and stuffed America's prisons to overflowing. Ron Paul would leave drug legislation and enforcement to the states.
Ron Paul has already co-sponsored an industrial hemp bill.
It was described by
StopTheDrugWar.org
as follows:
http://stopthedrugwar.org/chronicle/473/ron_paul_introduces_hemp_bill_US_congress
"Texas Republican Congressman Ron Paul has filed a bill that would legalize hemp farming in the United States. This marks the second time Rep. Paul has filed this bill, but it went nowhere in the last Congress. The bill, HR 1009, would allow domestic hemp manufacturers to buy their hemp from American producers. Currently, US law bars the production of industrial hemp, and American manufacturers have to import their hemp from other countries.
"This time around, Rep. Paul has nine cosponsors, all Democrats. They are Representatives Tammy Baldwin (D-WI), Barney Frank (D-MA), Raul Grijalva (D-AZ), Maurice Hinchey (D-NY), Dennis Kucinich (D-OH), Jim McDermott (D-WA), George Miller (D-CA), Pete Stark (D-CA) and Lynn Woolsey (D-CA).
Continued...cannabisnews/23015
THE POLICE STATE COMETH by Rep.Ron Paul
The State vs. Doctors by Congressman Ron Paul, MD
Ron Paul Archives
Outlawing Common Sense
Cannabis as repellent and pesticide
John M. McPartland
VAM/AMRITA 53 Washington Street, Middlebury, VT 05753 USA
Conservatives Argument for Legalization
"Even if one takes every reefer madness allegation of the prohibitionists at face value, marijuana prohibition has done far more harm to far more people than marijuana ever could."
--William F. Buckley, Jr. - Writer
Marijuana/Hemp The Untold Story
Ganja/Hemp Info
"I leave it at this, that it is outrageous to live in a society whose laws tolerate sending young people to life in prison because they grew, or distributed, a dozen ounces of marijuana. I would hope that the good offices of your vital profession would mobilize ... to recommend the legalization of the sale of most drugs, except to minors."
--William F. Buckley, Jr.
jackherer/chapters
Prove us wrong! Prove us wrong! Prove us wrong!

We hereby extend our $100,000 challenge to prove us wrong!
If all fossil fuels and their derivatives, as well as trees for paper and construction, were banned in order to save the planet, reverse the greenhouse effect and stop deforestation; then there is only one known annually renewable natural resource that is capable of providing the overall majority of the world's paper and textiles; meet all of the world's transportation, industrial and home energy needs, while simultaneously reducing pollution, rebuilding the soil and cleaning the atmosphere all at the same time... and that substance is the same one that has done it before . . .
CANNABIS/HEMP/MARIJUANA!
Willie Nelson Hemp
Hemp DEAception/My Ole KY Hemp
Too Late To Plant Hemp, Licensed Farmers File Suit By Sue Roesler
CN Source: Farm & Ranch GuideJune 22, 2007 Bismarck, N.D
Two farmers licensed to grow hemp in North Dakota filed a lawsuit in federal district court this week attempting to keep the Drug Enforcement Administration (DEA) from charging them with a crime after they put the seed in the ground. North Dakota Rep. Dave Monson, a legislator and wheat, barley, canola and soybean grower in northeast North Dakota, and Wayne Hauge, a barley, durum, pea, lentil, black beans and chickpea grower in northwest North Dakota, filed the lawsuit that is being paid for by VoteHemp.
Continued...cannabisnews/23110
Correspondence about the legal status of hemp 1930-1938
HEMP FOR VICTORY
During World War II, the U.S. government urged patriotic American farmers to grow...
Say No To Green Harvest & C.A.M.P.
Eradicated Marijuana Is 98 Percent Ditchweed!
Hemp Foods & Cooking
hempembassy
An attractive, 8 ounce re-closeable foil pouch. A unique gift for the true coffee lover. Rich in body and flavor. That coffee lover will also need hemp coffee filters. Kosher Certified. THC Free. Herbicide, Pesticide, Cholesterol & Gluten Free Packaged in a Resealable Foil Package
All organic ingredients used in this incredibly tasty Hemp Spaghetti Pasta. Packaged in re-closeable 9 in. by 4 in. plastic bags. This is without question the best spaghetti we've ever tried. Try it with some of our all natural Marinara Sauce!
HEMParty
The old notion that people can "keep themselves to themselves" and not be touched by what is happening to their neighbors, or even to people who live a hundred miles off, is a most dangerous mistake. The saying that we are members one of another is not a mere pious formula...It is a literal truth; for though the rich end of the town can avoid living with the poor end, it cannot avoid dying with it when the plague comes. People will be able to keep to themselves as much as they please when they have made an end to poverty; but until then they will not be able to shut out the sights and sounds and smells of poverty from their daily walks, nor feel sure from day to day that its most violent and fatal evils will not reach them through their strongest police guards.
--George Bernard Shaw
The Ganjawar Comes To The Rez
S.D. Family Seeks The Right To Grow Hemp
hempembassy
Hemp Once Grown Around Lexington To Support War
By Bill Steinbacher-Kemp
CN Source: Pantagraph June 23, 2007 Lexington, KY
In the summer of 1943, there were more than 4,000 acres of marijuana being grown around Lexington. The buyer for this crop, though, wasn't some downstate gangster or crime syndicate. No, in this instance, the buyer was none other than Uncle Sam.
During World War II, industrial hemp, a variant of marijuana which contains lower levels of the psychoactive ingredient THC, was used to make rope and other items, such as parachutes, harnesses and shroud lines for airborne troops.
Continued...cannabisnews/23115
CannabisNews Hemp Archives
buzzle
"We've got a national campaign by drug legalizers, in my view, to try and use medicinal uses of drugs and legalization of hemp as a stalking horse to get in under the radar screen."
--Gen. Barry McCaffrey - Former Drug Czar (Clinton)
The Demonization of Marihuana
- by John C. Lupien
Background of the supposed Anslinger-Hearst-DuPont conspiracy to outlaw marijuana in order to remove hemp as a possible competitor to their products.
The Emperor Wears No Clothes
by Jack Herer
Elkhorn Manefesto the Invisible Prohibition
Untold Story
Ganja/Hemp Info
hempembassy
Battle Lines: Natural Or Synthetic
Battle Lines: Natural Or Synthetic.. Life Or Death By Rand Clifford
CN Source: OpEdNews.com June 26, 2007 USA
Hemp is about life, renewal and future, power to The People...most everything America's embedded fascist regime is not about. Government of, by and for corporations (CorpoGov) has us hogtied.
Corporate profits rule the priorities in a globalizing plutocracy (CorpoWorld) where the bottom line is...power to the bottom line. Corporate grip just keeps increasing, squeezing the life out of the biosphere—CorpoWorld truly is making a killing.
Continued...cannabisnews/23124
The Hemp Manifesto
by Rowan Robinson
101 Ways That Hemp Can Save Our World
Facts you should know about Hemp
* Hemp Industries Association
* HempStores.com
* VoteHemp.org
* North American Industrial Hemp Council
"...somebody has to take governments' place,
and business seems to me to be a logical entity to do it."
--David Rockefeller - Newsweek International, Feb 1 1999
Potential First U.S. Hemp Farmer Gets Fingerprinted
by George Spyros
Business & Politics 01.18.07 New York City, USA
Six other states have also authorized industrial hemp farming, but yet to push their initiatives into action. Those others states are Hawaii, Kentucky, Maine, Maryland, Montana and West Virginia. Last year, California lawmakers approved legislation that set out rules for industrial hemp production, but Gov. Arnold Schwarzenegger vetoed it.
Hemp and Marijuana together
We Got Mugged, So Let's Get Hemp Back
We Got Mugged, So Let's Get Hemp Back By Rand Clifford
CN Source: OpEdNews.com June 30, 2007 USA
Prohibition of cannabis hemp was a mugging, a twisted and diabolical assault on the rights, health and well-being of Americans unparalleled in our history for sheer scope of lasting impact.
Never has brazen self interest cost so many people so much for so long. And the number of entrenched industries with profits threatened by hemp have greatly multiplied in number, and political influence.
Continued...cannabisnews/23141
Elkhorn Manefesto
By R. William Davis
The Real Reason the Government Won't Debate
Medical Cannabis and Industrial Hemp Re-legalization
Hemp Nation
King Hemp Part 2
From DEA Deadly Birdseed, Toward Power To The People
King Hemp Part 1
Battle Lines: Natural, Or Synthetic...Life, Or Death
More Hemp Related Books
Ruth's Red, White and Blueberry
Wear It - Eat It - Drive It - Just Don't Grow It By Ann Woolner
CN Source: Bloomberg.com July 06, 2007 USA
You can buy it at any Whole Foods Market, Trader Joe's or health-food cooperative. Look for it among the high-fiber cereal, the Inulin, the flax seeds. Pick up the powdered version to sprinkle green protein on your salad. Buy the granola and just try not to gobble it up immediately.
Hemp, or more specifically, its seed and oil, tastes good (usually). It makes hemp butter, hemp bread, hemp bars and hemp seeds, which look like sesame. All of it is good for you, though none of it will get you high.
Continued...cannabisnews/23156
Ruth's Hemp Foods helps the lawsuit against the DEA
Ruth's makes some excellent hemp bars, and now they've come out with a new one for the holiday: Red White and Blueberry. All the profits from the bar will go to support
Vote Hemp
and their funding of the lawsuit to allow North Dakota farmers to grow hemp.
Be patriotic and buy some
Red, White and Blueberry
.